August 5, 2013 by Stacy McDonald
One who is consumed by the delusion of perpetual victimhood is engaged in one of the most bitter and prolific sins I have ever witnessed. It is a vicious, blinding, self-consuming, inexhaustible, and cancerous sin. It keeps its prey bound, paranoid, miserable…and dangerous. Narcissism is a cruel master; it compels its slaves to count as enemies those who love them, and ironically to attack those who speak the truth to …
July 29, 2013 by Stacy McDonald
This unique book is your opportunity to find out what happened to ten ordinary women who gave three decades of their lives to embracing the gift of children.
Some of you may already know that I contributed a chapter to this book with several other women – women who, like me, wanted to share their journey of motherhood with you. Well, that book is now available! You can CLICK HERE …
July 18, 2013 by Stacy McDonald
Update: It has been brought to my attention that the pastor described in this article is actually now a "former pastor." Please note this correction.
There seems to be this weird new drift in the concept of Christian modesty. Perhaps it's just a non-theology reaction to truly poor theology; but, whatever it is, it's growing…especially in the "relevant" crowd. In other words, the people who seem to support this new "barely there …
June 18, 2013 by Stacy McDonald
You should no longer walk as the rest of the Gentiles walk, in the futility of their mind, having their understanding darkened, being alienated from the life of God, because of the ignorance that is in them, because of the blindness of their heart; who, being past feeling, have given themselves over to lewdness, to work all uncleanness with greediness. But you have not so learned Christ, if indeed you have …



June 17, 2013 by Stacy McDonald
The following article by Selah Helms was originally published in Family Reformation magazine in 2004, but it is just as relevant today (if not more so). Please take a moment to prayerfully read and discuss this topic with your families.
My teenagers' peers constantly discuss the movie Bruce Almighty, the rock groups Switchfoot and Evanescence, country music, sexy actors, and personal appearance. In these cultural elements, young people seem to live, …
June 9, 2013 by Stacy McDonald
This post is in response to Doug Wilson's article, Allergic to Other People. Let me state here that I really like Doug Wilson. Our family has read and recommended many of his books on marriage and family for years. And I'm pretty sure I "get" what he was trying to communicate. I agree that those with allergies should be charitable and be careful not to be rude, thoughtless, or …
May 14, 2013 by Stacy McDonald
This is a guest post from my dear friend, Tonya Chapa from her new blog, The Virtuous Wife. Welcome to the blogging world, Tonya! Be sure to visit her and say hello!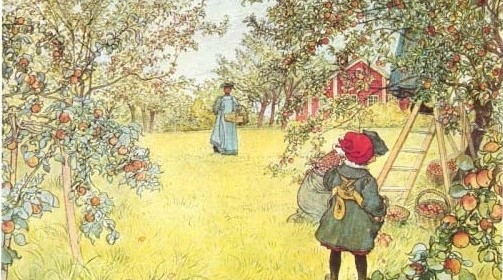 I have been at the Family Economics Conference this past week soaking in the words and wisdom of many godly and gifted speakers. As I was listening, I was thinking, connecting dots, examining our life and the way we …
May 11, 2013 by Stacy McDonald
I wrote this poem a few years ago to encourage mothers in their holy duty of nurturing and training their little ones. Some days are indeed difficult, but what a blessed calling we have!
He will feed His flock like a shepherd; He will gather the lambs with His arm, and carry them in His bosom, and gently lead those who are with young. (Isaiah 40:11)
God fashioned her with smaller hands,
So …
April 28, 2013 by Stacy McDonald
8 oz. Feta, crumbled
8 oz. Cream Cheese, softened
3 T. Chopped Fresh Basil
3 T. Chopped Fresh Chives
2 T. Olive Oil
2 T. Balsamic vinegar
1 tsp. granulated garlic
Chop basil in food processor and set aside. Mix the cheeses with a fork (or on pulse in the food processor) until combined.  Add oil and vinegar.  Mix in herbs. Cover and chill up to 7 days.
Serve with crackers, bread, or on sandwich wraps. May also …
April 28, 2013 by Stacy McDonald
This is one of my very favorite high protein snacks – and it's good for you too. It's perfect to have on hand if you're pregnant or nursing and can't seem to find the time for a healthy snack during the day.Serve it for guests, for your kiddos, or for the hungry hubby who is tempted to browse the pantry shelves looking for sugar or empty calories.
You can even serve …